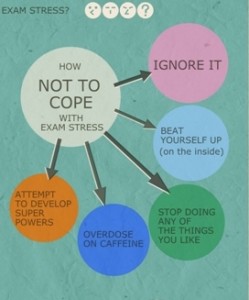 The workshop will help you deal with exam stress get back in control of your studies.
Positive stress can increase self esteem as we learn to manage challenging situations and feelings increasing our confidence in our ability to cope with life pressures.
Stress gets a bad press most of the time. Put simply, it's an indicator that we need to take action! The burst of adrenaline can energise and motivate us to meet deadlines, accomplish goals, and gets us excited and ready for a new challenge.
Life is challenging when we have too much stress, which can lead to physical and emotional symptoms that leave us feeling upset and irritable. Too much stress can interfere with our wellbeing, affecting our sleep and appetite, giving us headaches, panic feelings, and poor concentration. Read more here…
Joanna used a range of different therapy and counselling techniques that enabled all students to access her services, of particular note were the workshops she ran on dealing with stress and coping with exams.

Head of Sixth Form, Sale Grammar School
Deal with exam stress and get back in control of your studying
The Exam Stress workshop helps students learn how to take care of themselves throughout this naturally stressful time in their lives. 
For parents, learn how you can best support your child in the lead up and during exam times.
Workshops are designed to offer helpful coping strategies, information and handouts on resilience and Mindfulness.
You can do anything, but not everything.

David Allen
When, where and how to book your place
To register your interest please click here.
2019 – I am running exam wellbeing days for individuals and small groups at my practice at The Affinity Centre Cheadle.
Bespoke workshops can be offered at your school or college for up to 40 students. Please contact me to discuss your requirements in more detail and for availability and group prices.
What You will learn…
Manage the physical symptoms of stress including tips for better eating and sleeping
Get back in control of your thoughts and feelings so you can study in a more grounded and calm way
Free yourself from stuckness and anxiety, helping you to concentrate, absorb, and retain information
Revision techniques that will work for YOU
Joanna has delivered numerous stress-management workshops across all year groups at Altrincham College over the past few years. She effectively tailors her knowledge and skills to meet the needs of the audience, regardless of age or circumstance. Very recently she has delivered a 'Mindfulness and Coping Strategies' workshop to Year13 students. This provided the students with an additional and invaluable measure of support in managing the pressures of their pending exams and final coursework deadlines.

Sixth Form Lead Tutor, Altrincham College of Arts